Each year before Rosh Hashanah, we challenge you (and ourselves) to commit to a mitzvah, starting a month before Rosh Hashanah and lasting through the holiday season!
---
Sunday, October 2nd at 12:15 pm
Tashlich with JFX at Lower Shaker Lakes South Park
14300 South Park, Shaker Heights
---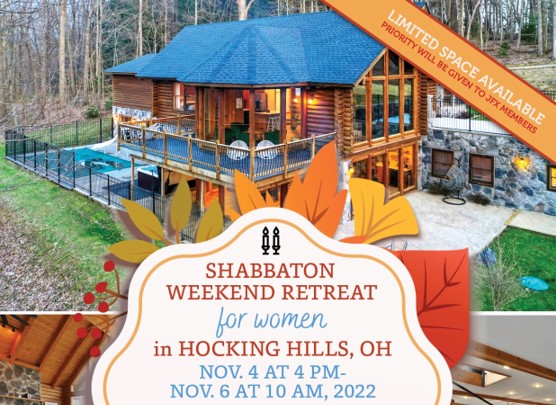 November 4th - 6th
Women's Shabbaton Weekend Retreat
Relax with homemade food, inspirational sessions, singing, prayer services, and camaraderie
SEE MORE DETAILS AND REGISTER HERE
---
Experience JFX
The Jewish Family Experience is a community of inspired Jews led by Rabbi Sruly and Ruchi Koval. We offer classes, programs, holiday celebrations, Sunday School, and our Shabbat morning experience. We offer Jews of all ages, backgrounds and affiliations a fresh look at Judaism in a way that offers education, inspiration and community.
Join us for Shabbat Morning Experience
Every Saturday morning
2200 S. Green Road,
University Heights OH 44121
Parsha class, kids' program, deluxe kiddush
Learn with us. Join a class.
"We wanted to do this differently from how we went to Sunday School. Our whole family goes and we all learn at our own pace. We love it. It has changed the culture in our home!" Carly, mom of Graham, Lincoln and Desmond - Shaker Heights
Sat, October 1 2022 6 Tishrei 5783